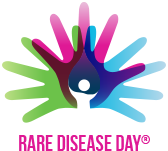 Happy Rare Disease Day 2019!

Date: 28 Feb, 2019
No Comments
Rare Disease Day falls on the last day of February – this year it will be on the 28th February 2019. This will be the twelfth international Rare Disease Day coordinated by EURORDIS. On this day patient organisations all over the world will hold awareness-raising activities.
The theme for Rare Disease Day 2019 is 'Bridging health and social care'. Focusing on bridging the gaps in the coordination between medical, social and support services in order to tackle the challenges that people living with a rare disease and their families around the world face every day.
We have been involved by showing how important coordinated care is for patients affected – The Alstrom Syndrome multi-disciplinary clinics coincide with Rare Disease Day which has given us a great opportunity to bring patients together to discuss why these multi-disciplinary clinics are so vitally important. This coordinated care brings together health, social care and support to bridge the gap between these services to work together.
Have a look below at these fabulous photos and quotes… get in touch to add your photo and quote today!
"They keep me healthy"
"I was the 1st family and when I need help I can call the clinic and they help"
"I know my health is in the best hands and I get to meet other people like me"
"They help me to speak up for myself"
"It gives me the chance to meet other people like me"
"The Doctors look after my health"
"They help my Brothers and Sisters and also talk with us and comfort us. They also set a bright future for my siblings and others with AS."
The main objective of Rare Disease Day is to raise awareness amongst the general public and decision-makers about rare diseases and their impact on patients' lives.
You can click here find out more about Rare Disease Day and the global events taking place on the Rare Disease Day website.
#RareDiseaseDay
#ShowYourRare
ASUK CEO, Ann Chivers and ASUK Family Support Worker Carrol Birchall showing the importance of raising awareness, in the world of rare diseases awareness no matter how big or small makes a HUGE difference.