I joined ASUK when my son was diagnosed with the condition. I became chair of the board of trustees but later stepped down from the board to apply for a position within the organisation. I have worked for ASUK since 2009 and I am now the National Development Manager.
I am responsible for overseeing the Family Support Service and I work closely with our medical teams in Birmingham to support the highly specialised multi-disciplinary clinics. I also manage ASUK's contracts with pharmaceutical companies to support clinical trials.
I am the Project Lead for 'Breaking Down Barriers' and I work with patient organisations and support groups throughout the UK to develop supportive and inclusive services for individuals and families affected by genetic disorders. The project is managed by ASUK and funded by the Sylvia Adams Charitable Trust.
I have been involved in various UK and EU projects focussing on patient engagement in clinical trial designs and drug development and I am a patient representative on the UK Rare Disease Policy Board.
I thoroughly enjoy my role at ASUK, especially the direct contact I have with young people, adults, parents and carers who are affected by Alström Syndrome. I work alongside a fantastic team at ASUK and we are all passionate about ensuring the service remains patient led.
---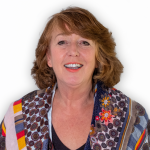 Ann Chivers
Dr Tim Barrett